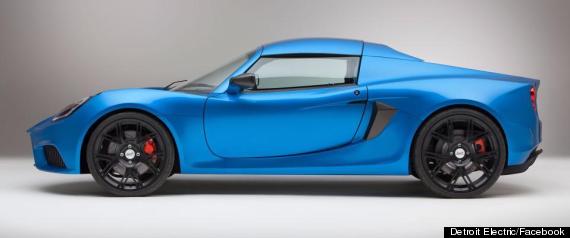 DETROIT – More than 100 years after it began making cars, Detroit Electric is back in business.
The automaker on Wednesday is unveiling in Detroit the SP:01, a limited-edition electric sports car.
Detroit Electric was founded in 1906 and built 13,000 electric cars. Among its customers were Thomas Edison, John D. Rockefeller and Henry Ford's wife, Clara. But the company halted production in 1939, overcome by the Great Depression and drivers' growing preference for gasoline-fueled engines.
Detroit Electric was revived five years ago by Albert Lam, a former Lotus Cars and Apple Inc. executive. The company has set up offices in Detroit's historic Fisher Building and plans to build its cars in Michigan.
The two-seat, $135,000 SP:01 has a top speed of 155 miles per hour and can go from zero to 60 mph in 3.7 seconds, the same as BMW's high-performance M5 sedan. Detroit Electric says it will be the world's fastest pure electric production car.
Its closest competitor, the electric Tesla Model S sedan, goes from zero to 60 in 4.2 seconds and has a top speed of 130 mph.
Detroit Electric said the SP:01 can go for an estimated 190 miles between battery charges. A home charging station can fully charge the car in a little more than four hours. The charging unit can detect if the home loses power and use the car's stored electrical energy as a backup power source.
Detroit Electric will make 999 SP:01s. They'll be sold worldwide starting in August.
SOURCE:SP:01, Electric Sports Car